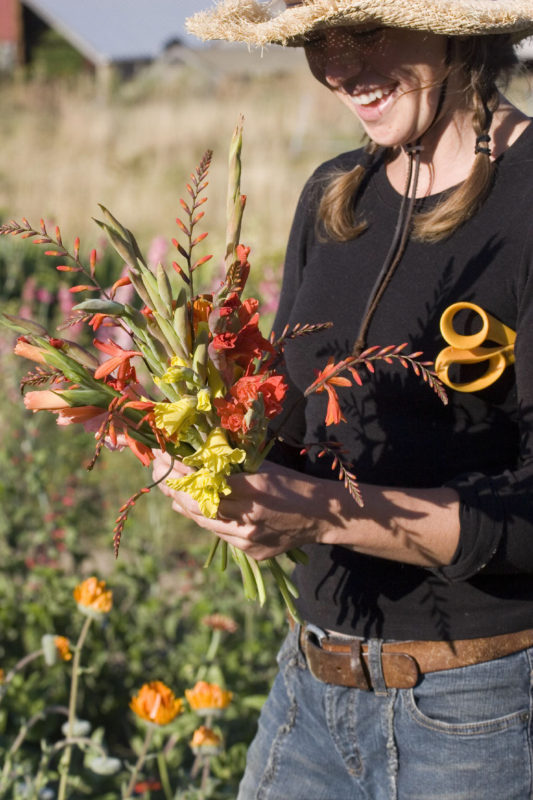 I was raised in Vermont, and after college moved to the Pacific Northwest and started an organic flower farm. In the summertime I created beautiful bouquets, and during the long, rainy winters I learned to make prints. Now, I'm a full-time artist, creating designs, carving blocks, and printing pretty things to send out into the world. I love it! My work is inspired by my flowers, my kitchen garden, and the wildlife surrounding my family's home in Washington State.
All Windsparrow Studio products are designed, sewn, and hand printed in my studio overlooking the mountains and water of the beautiful Pacific Northwest. My original blocks are hand carved and printed onto scarves, tea towels, garden flags, and more. New designs, colors, and products added regularly!
---
Block printing is one of the oldest types of printmaking, and has been around for thousands of years. It is a relief printing technique where an image is carved into a block (I use linoleum) and then printed by hand. Each time a print is made, the block must be inked and then pressed, so every single print is unique. This technique lends itself beautifully to creating strong, graphic prints with a real sense of the hand of the artist behind the work.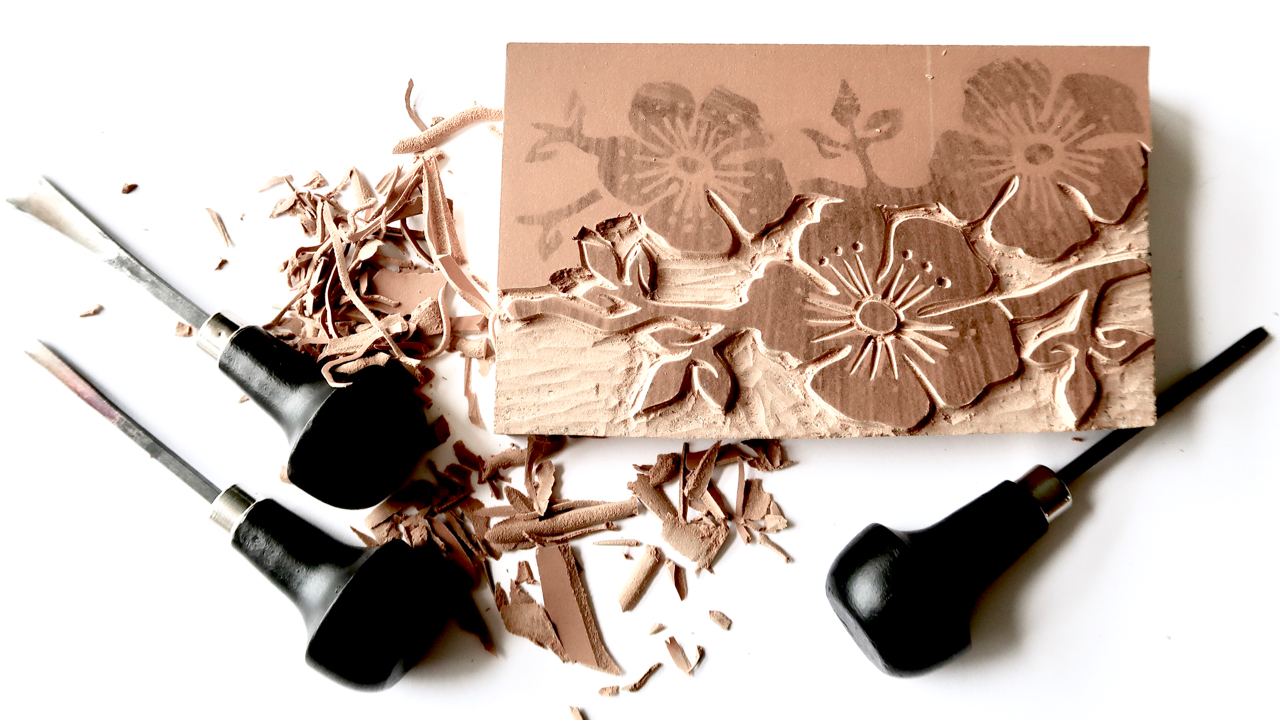 Carving the block
I draw my design directly onto the block, then carve out the negative space around the design with my linoleum carving tools. The tools shown here are my favorites, found by a friend in an abandoned old barn!
Rolling on the ink
Using a piece of glass, I roll out the ink with the brayer (a hand roller tool used to apply the ink). Getting the ink to just the right thickness for printing takes practice!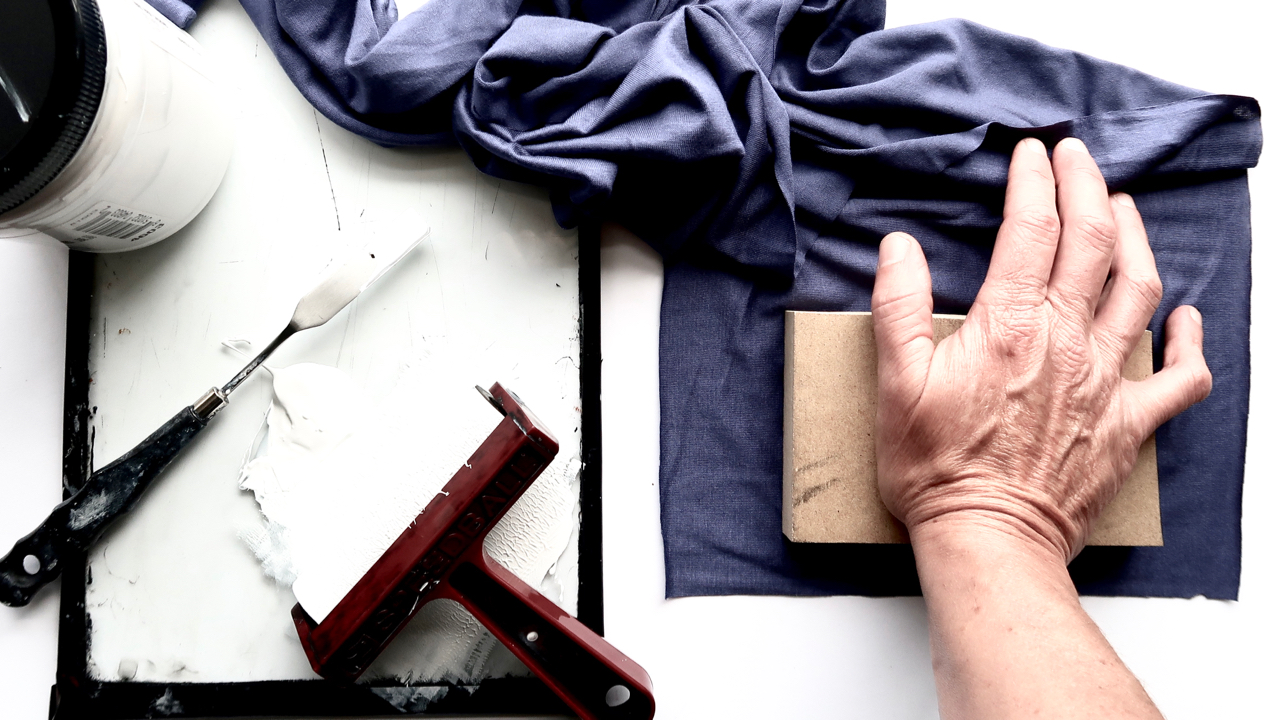 Printing the block
I print by pressing the block down on the fabric. Getting the pressure right is important… Pressing too hard can smear the ink, too soft and the design won't be clear.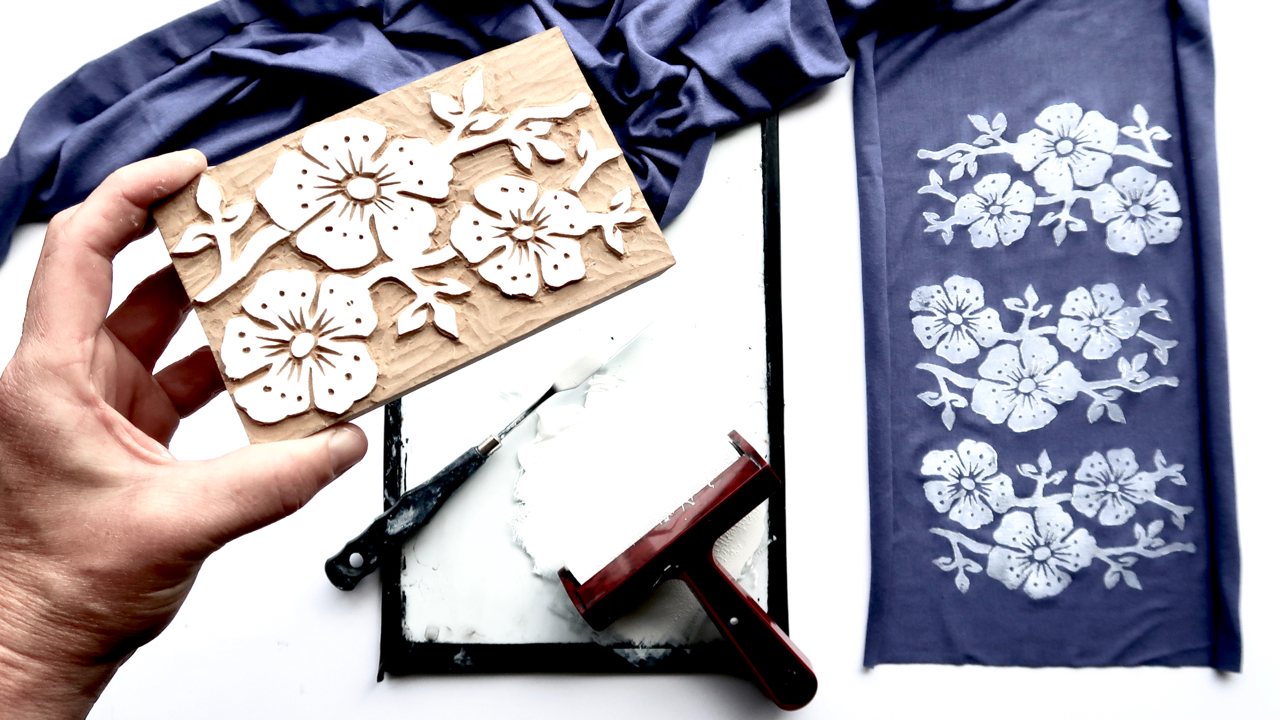 Freshly printed scarf!
Each print is unique, and seeing the finished product is so fun and satisfying every time!
---
MORE ABOUT WINDSPARROW STUDIO
MEET THE WINDSPARROW STUDIO ARTIST:
Hello from Jenny and Windsparrow Studio! My block prints are original designs, hand carved and lovingly printed one at a time, giving each piece a unique touch. My work is inspired by my flower garden and the nature surrounding my home in the Pacific Northwest.
BECOMING AN ARTIST AND MAKING BLOCK PRINTS:
I studied printmaking, drawing, and sculpture at Bennington College in Vermont and the Glasgow School of Art in Scotland. Printmaking was my favorite, and block printing especially. I truly enjoy how simple and accessible block printing is—I can carve a block at the dining room table or the local cafe, and then print my unique images onto almost anything.
My flags were my first offerings, and I love seeing them everywhere: doorways, garden gates, over a window, in play spaces, and even strung in the back of van conversions going down the highway! My hand printed accessories are a delight to me, my favorite to create. I love making these soft, beautiful, colorful pieces with my botanical images for adorning any body.
WORK PROCESS:
HOW I CREATE YOUR PONCHO:
My hand printed ponchos are my best seller and look great on all body types. To create a poncho, I begin with the design. Once I've drawn the perfect image, I transfer it onto the linoleum, then begin carving to create the printing block. When the block is finished, I can make literally thousands of unique prints with it.
Next is the fabric, specially chosen to highlight the print. My fabric is soft, lightweight, drapes beautifully, and is offered in carefully chosen colors for the season. Each poncho is sewn in my studio, then individually printed in black or white ink.
Ink is carefully rolled onto the block, pressed down onto the fabric, and immediately heat set. My ink is non-toxic, permanent, and washable, ensuring that the design looks great for years. Hand printing like this gives each image its own special look— no two prints are exactly the same. I think of this as the special connection between me and each person who wears my accessories.
OUR BEST SELLERS:
We love everything we offer and think you will too! Our bestseller flags: Rainbow Chicken, Honeybee, and Garden Creatures mini Flags. Our customer favorite accessories are our Ponchos and Headbands, but our scarves are beloved as well! Visit our How to Wear page for styling ideas. New colors, products, and designs added regularly.
WHERE TO FIND WINDSPARROW STUDIO:
All of Windsparrow Studio's products are available here to retail buyers on our website. We're also available in many wonderful shops and galleries all over the USA. Please take a look at our Locations page to find a retail shop carrying Windsparrow Studio products near you! If you don't see a retailer in your area, we welcome suggestions as we're always searching for stores where our products would be a good fit. Please be sure to support your local stores!
WHOLESALE:
Windsparrow Studio offers wholesale to qualified buyers. Simply fill out our Wholesale Application and we'll get back to you right away!
GET IN TOUCH WITH WINDSPARROW STUDIO:
I love hearing from my customers! Please feel free to reach out HERE